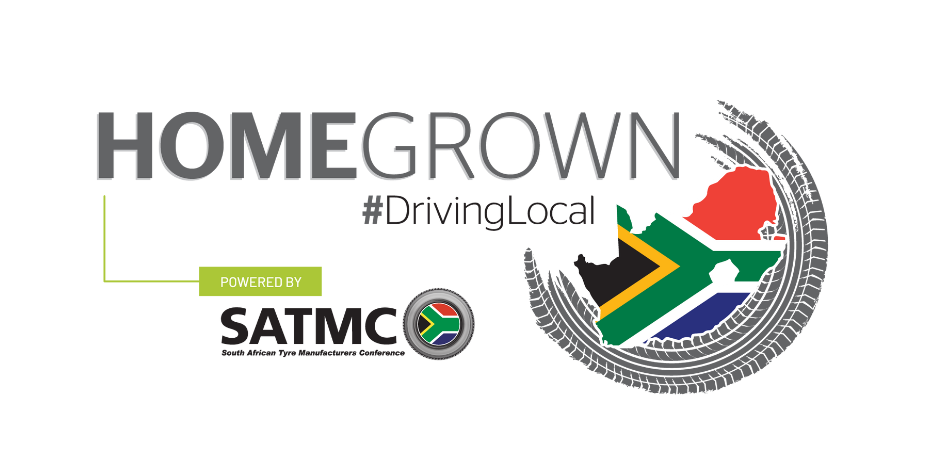 In a move to highlight the importance of domestic manufacturing within the tyre industry, the South African Tyre Manufacturers Conference (SATMC) has unveiled its new Homegrown #DrivingLocal initiative and logo, in collaboration with member companies, Bridgestone Southern Africa, Continental South Africa, Goodyear South Africa, and Sumitomo Rubber South Africa.
The SATMC serves as the industry body and voice of these four tyre manufacturers with plants and investments in South Africa. Together, they champion the ethos of homegrown manufacturing, in an era where global dynamics often overshadow local endeavours.
The local tyre industry remains an important economic contributor in South Africa, employing thousands and attracting investment into the country. Collectively, the companies employ more than 6 000 people directly and create indirect employment opportunities for more than 19 000 people. More importantly, their products ensure the safety of millions of South Africans.
Over 70% of tyres sold by SATMC members are produced in South Africa, and the four companies continue to make sizeable investments into upping domestic capacity at their local plants. Between 2018 and 2022, they collectively contributed a total of R29,7 billion towards the South African economy.
SATMC's Homegrown #DrivingLocal initiative calls upon South Africans to rally behind their local tyre industry and contribute towards a vibrant economic landscape and a safer, more prosperous future for all. In line with the South African Automotive Masterplan 2023, the local tyre industry is at the forefront of driving localisation in the automotive sector.
The new Homegrown #DrivingLocal logo is emblematic of the local tyre industry's values of:
Quality: Tyres from Bridgestone, Continental, Goodyear, and Sumitomo Rubber South Africa are the result of top-tier engineering and innovative design, adhering to global standards of excellence.
Trusted Partnerships: Each of the four companies has forged alliances with major automotive manufacturers, a testament to the rising trust and reliance placed in South African tyres for new vehicle lines.
Safety Above All: Tyres, as the sole point of contact between a vehicle and the road, are the first and foremost element of a vehicle's safety and control. The locally produced tyres undergo rigorous safety assessments, and their manufacturing processes encompass advanced safety features that enhance handling, braking, and cornering, ultimately ensuring the security of motorists and road users.
Regulatory Vigilance: Local tyre manufacturers diligently comply safety testing and quality manufacturing standards, and their tyres undergo rigorous regulatory scrutiny.
Consumer Peace of Mind: Local manufacturers back up their products with warranties and return policies for customers, while some also offer tyre cover and tyre insurance products to help consumers get the most out of their tyres.
Driving Economic Prosperity: Supporting local industry contributes to the growth of the South African economy and creates a better future for all of us. All four SATMC member companies have strived to develop the industry through supplier development, employee contributions, skills development, corporate social investment and enterprise development, in addition to investments into their local manufacturing plants. Local tyre manufacturers also provide more opportunities for entrepreneurs, creating jobs all along the distribution chain. A sustainable tyre manufacturing industry is able to attract investment, remaining up-to-date and world-class.
Job Creation: Each South African tyre manufacturer has a factory facility, plus distribution centres and offices across the country, creating jobs for thousands of South Africans. There are also dealer networks and independent stores supported by the local manufacturers.
Optimised for Local Conditions: Homegrown tyre brands are meticulously crafted to withstand the rigors of local weather and road conditions. This durability translates to extended lifespan and fewer replacements down the line.