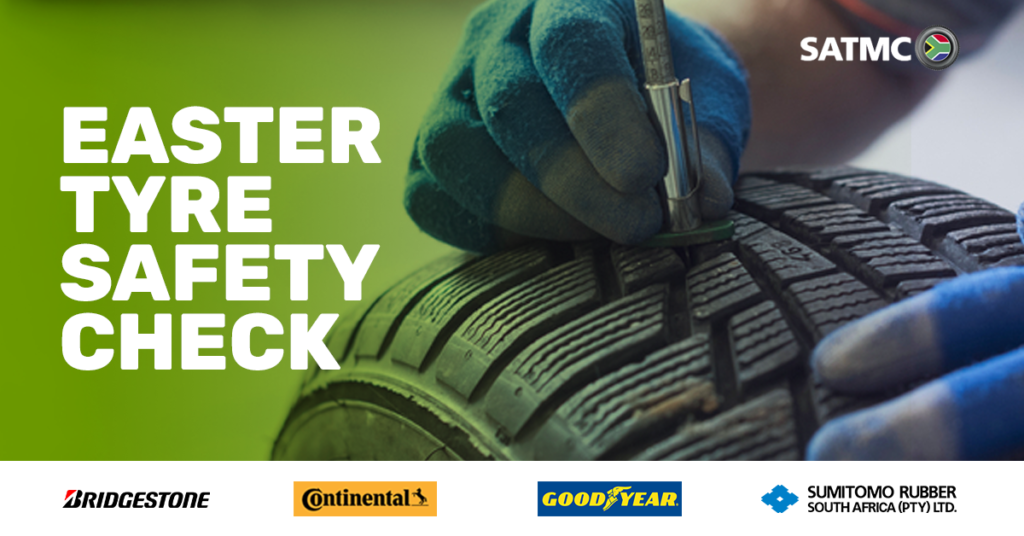 Long weekends and school breaks this Easter hold the promise of long road trips and rest and relaxation, but before checking in, your first port of call should be checking your tyres. Ensuring you have safety-tested, quality tyres will play a key role in getting you and your loved ones to your destination safely.
This Easter, as in years past, the National Department of Transport urges drivers to be cautious on the roads, make sure their vehicles are roadworthy, and ensure their car and drivers' licences are up to date.
"What we'd like to urge South Africans to do, as part of their normal car care routine, is to also inspect their tyres," says Ndu Chala, Executive Director of the South African Tyre Manufacturers Conference (SATMC), the representative body of the four global tyre manufacturers with manufacturing facilities in South Africa.
Tyres are a vital component of a vehicle and crucial to performance, handling, and safety on the roads, especially in poor weather. As the only part of a vehicle in direct contact with the road, tyres provide the desired traction, help to support the weight of the vehicle and its load, and assist with shock absorption during motion.
"The SATMC, as experts in the tyre industry, are passionate about tyre safety, road safety and ensuring you have the right tyres fitted onto your vehicle. When faced with poor weather conditions, or needing to stop suddenly in case of a pedestrian or falling objects, it's our tyres that do the hard work. If the tyre is worn or damaged, or if the tyre is not balanced, you will lose critical seconds to come to a stop, which can lead to tragic situations," he adds.
Investing in safety-tested and quality tyres is one way to ensure you have tyres that will withstand challenging conditions.
"As with any investment you would choose the best that will offer you a higher rate of return, or longer life span on the product. It's even more critical to be cognisant of this when you are investing in equipment that carries the lives of the ones who are close to you. Educate yourself with information on what makes a good tyre, shop around for the best you can afford, and once fitted, regularly inspect and maintain the condition of your tyres," said Chala.
When choosing tyres, consumers can look out for:
• Safety standards: Ensure your tyres meet safety standards by being transparently tested by regulatory bodies. Research the manufacturer to assess whether they comply with international and local safety standards and subject their products to testing of grip, stability and braking in difficult conditions.
• Quality: Reputable dealers and retailers sell quality products that often have a warranty attached to the product. This serves as additional peace of mind that you are purchasing a product that will not easily wear out or fail unexpectedly. Warranties are an assurance that if something goes wrong, the manufacturer will be able to advise on the assistance they could offer.
• Performance: Make sure you purchase the right tyre for your vehicle and the conditions you subject your vehicle to, such as driving offroad more regularly, or driving in rainy parts of the country. Understanding your needs is key to finding a tyre that will perform. Your local dealership, or manufacturer liaison has the expertise to advise you if you are investing in the right product. Seek out expert advice.
When inspecting your tyres:
•    Conduct a quick check of your tyre tread depth: The manufacturer's recommendation is that the tread grooves retain a certain minimum depth, when measured at the Tread Wear Indicator (TWI), located around the circumference of the tyre. This is measured at 1.6mm. Should any part of the tyre tread be level to the TWI, that tyre should be replaced.  Inspect the tyre wall for any cuts, bulges, or other signs of damage.
"Treat your tyres as a key investment and do not be shy to ask the experts about the quality and safety of their products. At the end of the day, it is you out on the roads, responsible for the passengers in your vehicle. Make sure you fit quality so that you can get to your destination safely," said Chala. END