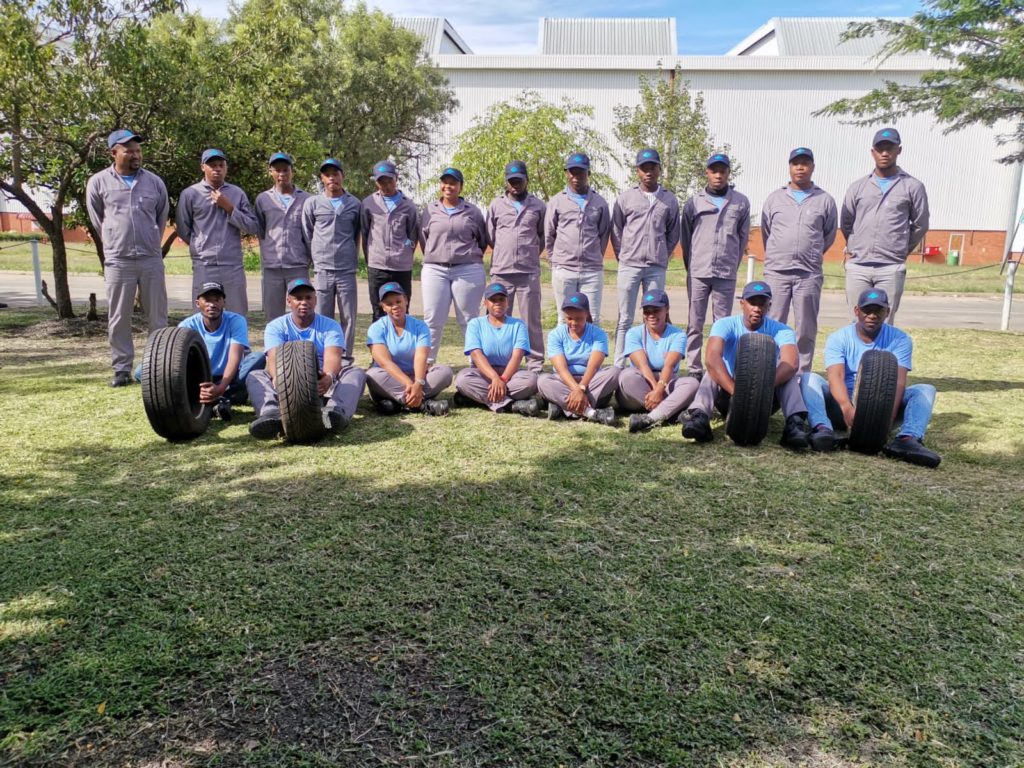 Local Tyre Industry Nurtures Next Generation Of Professionals
In a collective effort, the South African Tyre Manufacturers Conference (SATMC) and its member companies are striving to empower the youth and foster employment opportunities throughout their value chains, by implementing an array of educational, graduate, learnership, training and apprenticeship programmes.
Nduduzo Chala, Managing Executive of the SATMC, said all four members have programmes in place to chip away at South Africa's staggering youth unemployment rate, which currently sits at 46,5%, or 4,9 million unemployed young people.
Acknowledging the pressing need for youth empowerment and employment, Chala said, "Through structured programmes, Bridgestone South Africa, Continental Tyre South Africa, Goodyear South Africa, and Sumitomo Rubber South Africa, are fostering a pathway for young individuals to thrive in the tyre industry. These comprehensive programmes equip young participants with the necessary skills and knowledge required for meaningful careers, thereby strengthening the long-term viability of the industry and driving economic growth."
Between 2018 and 2022, the SATMC's four member companies dedicated R369 million to skills development initiatives as part of a larger contribution of R29.7 billion to the South African economy during the same period. A significant portion of this was allocated towards youth-focused programmes.
Building career awareness
To ensure a steady stream of young individuals interested in the tyre manufacturing sector, the four manufacturers have established platforms that enhance awareness of the opportunities available.
Bridgestone annually donates learning resources to local schools while using this opportunity to raise awareness about the multitude of opportunities within the company. It also organises an annual career day, inviting high school students to visit its plant, retail stores or Head Office to gain valuable insights into the number of careers available on-site. In addition, Bridgestone collaborates with Orbit Technical College to provide essential resources and guidance to young individuals who display an interest in the tyre industry, ensuring they receive the necessary support to pursue their aspirations.
At Continental Tyre South Africa (CTSA), great emphasis is placed on forging strong partnerships with tertiary institutions and technical colleagues to showcase opportunities and fill positions in its student talent pool programmes. Post-pandemic, the company is considering reintroducing hybrid open days, where aspiring graduates and apprenticeship candidates could connect with programme alumni and engage with CTSA managers, gaining invaluable insights into their career progression within the company. To support a robust succession pipeline, the company also hosts In Service Trainees, Vocational Trainees, and Trainee Pools. These initiatives contribute to the development of talented individuals who can contribute to the organisation's growth and success.
Goodyear spreads the word through its sizeable workforce and partners closely with Nelson Mandela University (NMU) for career awareness and recruitment drives, while Sumitomo Rubber SA has hosted career days at Ladysmith high schools to showcase opportunities in Legal, Supply Chain, Information Technology, Training and Development, Safety, Public Relations, Chemical and Mechanical Engineering, Labour and Finance.
Graduates in training
All member companies provide Graduate in Training (GIT) Programmes, which typically span a year, offering participants the opportunity for professional development. Upon successful completion of the programme, graduates have the potential to transition into full-time permanent positions within the tyre companies, including opportunities within their international operations.
Notably, Goodyear South Africa, in partnership with NMU Business School, equips graduates-in-training with the necessary technical knowledge and skill needed to succeed. In addition, Goodyear offers a tailor-made leadership programme to ensure graduates are also prepared for future leadership roles.
The GIT program at Continental Tyre SA includes an extended duration of training. During the first year, participants undergo rotations across all departments, gaining a comprehensive understanding of the organisation. In the second year, students are placed in their respective areas of specialisation to receive focused training.
Learnerships and Apprenticeships
Learnerships and apprenticeships are crucial in the tyre manufacturing sector, as they provide valuable hands-on training and industry-specific skills development, fostering a skilled workforce and ensuring the industry's sustainability and growth.
Bridgestone offers a Production Technology Learnership which has absorbed two thirds of the learners into the business as well as a youth-focused apprentice programme with a special focus on sought after skills in the electrical trade, as well as a Foreman Development programme.
More than 250 unemployed youth have acquired key skills through various learnership programmes offered by Goodyear South Africa, with a number securing permanent employment with the company. Among these learnerships, Goodyear's flagship programme – the National Certificate in Production Technology – launched in 2020, equips learners with knowledge and competencies essential to executing a variety of tasks that facilitate manufacturing, engineering, and technology processes. Workplace learning during the 12-month programme exposes them to the end-to-end process of tyre manufacturing. Goodyear also has apprentices in training gaining workplace exposure across its factory in various fields including electrical, fitting and electronics.
At Continental Tyre SA, diverse learnership programmes such as the SOS Learnership, YES Learnership, and Disability Learnership are available to young individuals, providing them with comprehensive knowledge and skills across all manufacturing aspects. These programmes also offer insights into the organisation's value chain, emphasising not only technical and engineering skills but also soft skills and business acumen to enhance employability and promote continuous development. In addition, Continental Tyre SA proudly hosts the Apprenticeship Programme, which has been welcoming 15 apprentices per year for over 10 years with a remarkable absorption rate. Recently, the company has realigned its apprentice programs to align with Industry 4.0 and the technical advancements within the manufacturing industry.
At Sumitomo Rubber SA, more than 400 tyre learnerships have been run at its Ladysmith plant for unemployed youth aged 18 to 34, providing them with an NQF Level 3 certificate in one of three qualifications: Tyre and Tyre Components, Tyre Assembly and Quality Checking of Tyres. The company trains 60 learners every year from the Ladysmith community and absorbs 90% of them for subsequent full-time employment.
Saying Yes4Youth
Towards the goal of generating one million new 12-month job opportunities and work exposure for young individuals, Bridgestone South Africa, Continental Tyre South Africa and Goodyear South Africa actively participate in the business-led Youth Employment Service (YES) initiative.
Bridgestone, for instance, has trained a total of 151 young people, with an impressive absorption rate of 52 (one-third) into the company. Additionally, Bridgestone collaborates with JASA (Junior Achievement South Africa) to deliver 20 hours of instructor-led training to youth, focusing on emerging technologies, design thinking, entrepreneurship, and essential professional skills.
Goodyear has been supporting the YES initiative since its inception in 2018 and is currently running the fourth cohort. 160 unemployed young people have been through this programme.
Continental Tyre SA has chosen to go the extra mile by investing in additional training and support for its YES learners. The company not only provides learners with a certificate of completion and an employment reference but also assists them in crafting their CVs and, through their service provider, helps them find permanent employment opportunities.
Mentorship and Leadership Development
The tyre manufacturers offer a range of opportunities for young professionals to access mentorship and growth experiences.
Continental Tyre SA implements a mentorship programme where young graduates and apprentices are paired with mentors, while employees have access to the company's formal mentorship initiative. The company also provides chances for individuals to lead projects and tasks, supported by their Talent Management and Succession Planning processes, which ensure personalised development plans for all employees. Additionally, they offer a Leading Self Programme, a leadership development initiative specifically designed for new employees or young professionals exhibiting leadership potential.
Goodyear has collaborated with Raizcorp to introduce the Youknit Programme to Kariega, aimed at addressing local youth unemployment by focusing on entrepreneurial readiness. The programme, consisting of 12 sessions, equipped 24 youths (12 candidates in two cohorts) with fundamental business knowledge, covering various topics essential for their entrepreneurial journey. Within each cohort, one person was selected and received training on facilitating a Youknit Programme, along with resources to enhance skills development within the local community.
Reiterating the SATMC's commitment to fostering opportunities for youth within the tyre sector, Chala concludes, "As multinational tyre companies with operations in South Africa, our members are dedicated to providing platforms for the country's youth to evolve into future employees, managers, and entrepreneurs in the industry who will make valuable contributions to the South African economy."