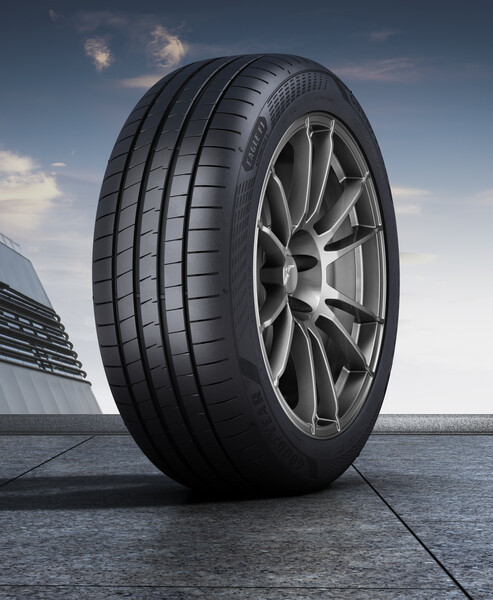 Goodyear is proud to announce that Auto Bild has awarded the Eagle F1 Asymmetric 6 top honours in its recent summer tire test1. Goodyear's ultra-high performance (UHP) tire performed better than 49 other products to rank top of the list in this prestigious test.
Auto Bild's summer tire test evaluated a comprehensive set of characteristics on dry and wet roads, with a particular focus on durability through the testers' use of a sophisticated wear abrasion test in the laboratory to measure tires' performance over time. Goodyear's Eagle F1 Asymmetric 6 was the overall winner and was ranked first or joint first in 10 of 12 test metrics, as well as being awarded Auto Bild's Eco-Master title.
Auto Bild testers noted the tire's "premium tread pattern with exemplary performance on wet and dry slopes [with] outstanding mileage.2" It particularly excelled in the tread wear category too, with testers finding it retained performance throughout the tire's lifespan and outperformed rival brands on overall mileage. Goodyear's test winner was the only tire in the test to receive only positive feedback.
Goodyear Eagle F1 Asymmetric 6: Ready for anything
Having launched last year, the Eagle F1 Asymmetric 6 is a step forward in performance, safety and efficiency compared to its predecessor. Dry Contact Plus Technology allows it to increase its footprint when the vehicle experiences extreme loads, giving a consistent and predictable performance. Meanwhile, Wet Braking Pro Technology makes use of an innovative resin that gives drivers enhanced grip on wet roads.
Technology developed for performance driving and handling has also been transferred to Eagle F1 Asymmetric 6. As a result, Eagle F1 Asymmetric 6 is as suitable for high-performance ICE (internal combustion engine) cars and larger SUVs and EVs.
The Eagle F1 Asymmetric 6 also has a range of features that make it the first UHP EV-ready tire. A more aero-efficient sidewall reduces drag and improves mileage. Meanwhile, the varying sipe pattern works to dampen road noise. The tire is also certified for a higher load rating to serve an EV market with typically heavier vehicles.
Sonia Leneveu, Director Marketing Consumer Europe, Goodyear: "We are thrilled to have the Eagle F1 Asymmetric 6 awarded another test win, with exemplary performance highlighted in every metric resulting in an extremely balanced tire. As drivers become more conscious of efficiency and range, the title of Eco-Master is more valuable than ever. Goodyear continues to pursue the development of its tires, and we are proud to also recommend our UHP product to EV owners, too."
(1) Auto Bild: 50 summer tires tested, dimension 225/45R18. Test car: BMW 3 Series. Issue 3/2023
(2) Translated from the original German