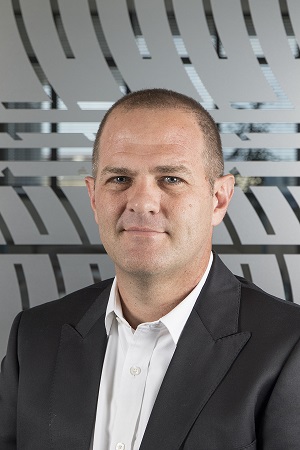 Issue Date: 4 September 2023
Lubin Ozoux, CEO of Sumitomo Rubber South Africa (SRSA), has been announced as one of 10 finalists in the 2023 Conscious Companies Awards, hosted by the Conscious Companies organisation in partnership with Joe Public and Primeserv. The finalists include some of the country's top business leaders and NGOs, with winners set to be revealed at a ceremony in Johannesburg on September 7.
Since inception in 2016, the Conscious Companies Awards have encouraged leaders to develop a much-needed ethical, honourable and responsible way of doing business, at a crucial time when true leadership around the globe is floundering and in a state of flux. The aim is to expand corporate consciousness where leaders guide their companies to prosper, perform and pursue profits while placing a premium on people, purpose, performance, community, culture and the environment beyond the bottom line.
Ozoux's strong belief in doing the right thing is ingrained in his DNA, which is critical in an industry that has direct implications on people's lives. Through its tyres, SRSA is responsible for keeping millions of people safe on the roads.
He says, "SRSA is a truly South African-focused organisation, made up of people who are passionate about what they do, and who use their skills and expertise to help drive the business forward. We operate in the road safety sphere, and as all South Africans know, we have many challenges to navigate while out on the road. This is why our people are committed to producing the best quality tyres that meet international standards, compliance and safety tests. As the CEO, it's my responsibility to remind not just myself daily, but my teams, of the purpose and inspiration behind what we do here."
Ozoux believes the key to excelling in industry and delivering consistent business results is derived from nurturing the talents of individuals and empowering them.
"The philosophy of our parent company, Japanese listed company Sumitomo Rubber Industries Ltd (SRI) – passed down over 400 years – is to be a reliable and trusted global corporate group that enriches people's lives through the creation of new value, while pursuing greater happiness for our employees, communities and society at large," he says.
Ozoux says the South African manufacturing sector is critical for ensuring the country's future prosperity and driving employment in the country. SRSA employs 1 545 staff nationally, is one of four multinational tyre companies with manufacturing plants in South Africa, and is a member of the South African Tyre Manufacturers Conference (SATMC). The company manufactures Dunlop, a global tyre brand with a history going back more than 130 years, and distributes Sumitomo and Falken tyres. Its Ladysmith plant was founded in 1973 and celebrates its fiftieth year of manufacturing excellence this year, producing passenger car, sport utility vehicle, light truck and truck and bus radial tyres, which are sold in South Africa and exported across Africa and other countries.
Brenda Kali, founder and chairperson of Conscious Companies, says, "The leaders who are the Top 10 finalists for the Conscious Companies Awards 2023 are exceptional in that they have all differentiated themselves with their selfless actions, behaviour and courage to serve, uplift, transform and bring about a different quality of being in the world of business. We celebrate these leaders and hope that they will inspire others to engage with conscious, ethical leadership."