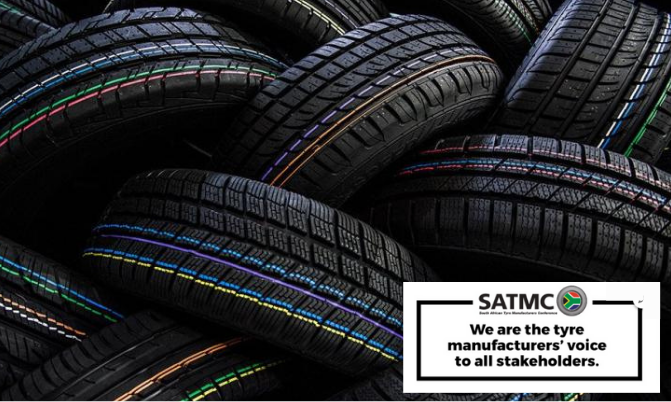 With South Africa's live vehicle population at over 12 million vehicles, there are at least 51 million tyres supporting South African people and goods in getting from point A to point B – and that's without considering spare tyres and heavy-duty trucks or trailers with multiple axles. The local tyre industry is, therefore, an important economic contributor in South Africa, employing thousands and attracting investment into the country.
Bridgestone Southern Africa, Continental South Africa, Goodyear South Africa and Sumitomo Rubber South Africa are the four South African tyre manufacturers represented by the industry body, the South African Tyre Manufacturers Conference (SATMC). Collectively, they employ more than 6 000 people directly and create indirect employment opportunities for more than 19 000 people. More importantly, their products ensure the safety of millions of South Africans.
With the South African tyre manufacturing industry imperilled by growing volumes of unfairly traded tyres from countries like China, here are 10 great reasons to love local and opt for reputable, homegrown tyre brands for your next tyre purchase.
Made in SA
Over 70% of tyres sold by SATMC members are produced in South Africa, and the four companies continue to make sizeable investments into upping domestic capacity at their local plants. Between 2019 and 2021, the four manufacturers contributed in excess of R15,9 billion to the South African economy.
Tyres produced by Bridgestone, Continental, Goodyear and Sumitomo Rubber South Africa incorporate world-class engineering and product innovation and meet international quality standards.
Trusted by major vehicle manufacturers
All four tyre companies have agreements in place with many of the major automotive manufacturers, who are increasingly showing trust and confidence in South African-made tyres for their new vehicle lines.
Tyres are the first and foremost element of a vehicle's safety and control, as the only part of a vehicle that touches the road's surface. Locally produced tyres go through rigorous safety tests, and local manufacturers ensure their manufacturing processes incorporate sophisticated safety features that improve handling, braking and cornering, to keep motorists and road users safe. Conversely, with more than 200 importers of various tyre brands active in South Africa, many cheaply imported tyres make their way into the country without the necessary checks and balances, leading to unsafe new and used tyres being sold to the public.
All local manufacturers must ensure compliance with safety testing and quality manufacturing standards. However, unfairly priced imported tyres and tyres dumped into the local market, are not always subject to the same regulatory processes.
Local manufacturers back up their products with warranties and return policies for customers, while some also offer tyre cover and tyre insurance products to help you get the most out of your tyres. This ensures the service doesn't just end the minute you purchase the tyre.
Supporting local industry contributes to the growth of the South African economy and creates a better future for all of us. All four SATMC member companies have strived to develop the industry through supplier development, employee contributions, skills development, corporate social investment and enterprise development, in addition to investments into their local manufacturing plants. Local tyre manufacturers also provide more opportunities for entrepreneurs, creating jobs all along the distribution chain. A sustainable tyre manufacturing industry is able to attract investment, remaining up-to-date and world-class.
Committed to fair pricing
SATMC companies work with tyre importers who demonstrate fair pricing, prioritise quality and safety, and are able to offer excellent after-sales service, guarantees and insurance. The manufacturers are committed to pricing their products based on the expertise, research, innovation, value-added guarantees, and relevant labour laws that went into developing them.
Each South African tyre manufacturer has a factory facility, plus distribution centres and offices across the country, creating jobs for thousands of South Africans. There are also dealer networks and independent stores supported by the local manufacturers.
Local tyres for local conditions
Locally produced tyre brands are designed and manufactured for local weather and road conditions, ensuring they last longer and don't need to be replaced as often as tyres designed and manufactured elsewhere.
Tackling tyre dumping
"Given their commitment to this country in the face of serious challenges, local tyre manufacturers must be protected against dumping of tyres into the local market from countries such as China," says Nduduzo Chala, Managing Executive of the SATMC.
Dumping refers to unfair international price discrimination, where the price of a product when sold in the importing country (i.e. South Africa) is lower than the price of that product in the market of the country it was imported from (e.g. China).
"Dumping has a negative impact, because any product imported at a rock-bottom price usually points to substandard production and quality – and this is especially worrying when it comes to a safety-critical product like tyres. Dumping also causes material injury to local industry, because it erodes local capacity, hampers investment, and negatively impacts direct and indirect job creation," adds Chala.
– ENDS –